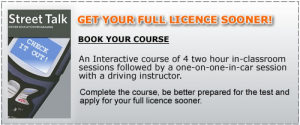 The Course
Street Talk is an NZTA-approved course in advanced driving skills. Successfully completing a Street Talk course allows you to reduce your restricted licence period by 6 months for under 25, or three months if you are over 25 years of age. A Street Talk course consists of 5 sessions that focus on:
Risk Perception
Risk Management
Self-Reflection
Decision Making
Goal Setting and Monitoring
Course Schedule & Pricing
We conduct Street Talk Courses throughout the whole year. In our online form below is a schedule of the up and coming courses. Use this form to get a placing in the next course or call us on 04 387 7480. The course costs
$180*
and comprises 4 two hour in-classroom sessions and a 1 hour one-on-one-in-car session with a course instructor.
Payment Options
Cash or eftpos on the first session.
Online, due by the first session, account details will be on course confirmation.
Book Online
You can submit a booking for a Defensive Driving course immediately using this form. To help us register you for the course please complete (at least) all those fields with 'required' by them.
The courses available for selection are:
2024 Lyall Bay - Evenings 6:30pm to 8:30pm

FEBRUARY THUR - 08/02, TUES - 13/02, THUR - 15/02, TUES - 20/02.

2024 Lyall Bay - Evenings 6:30pm to 8:30pm

- , - , - , - .